R.I.P. "Kidnapped" and "Smith"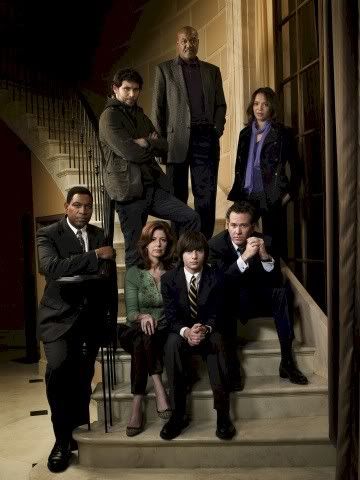 Sigh.
This is part of the fall season that I hate. It's already happened: a "Serenity" moment (that one still stings), a "Wonderfalls" moment or (to a much lesser degree) a "The Inside" or "Invasion" moment. It's when you hear that a television series which you really, really, obsessively love has fallen short in the ratings department and has, unceremoniously, been put out to pasture. This week we got word of two great shows getting the axe: CBS' "Smith" and NBC's "Kidnapped."
"Kidnapped" was the most gripping new non-"Studio 60 on the Sunset Strip" show of the season. It was like a thousand ace paperback crime thrillers rolled into one delicious, Delroy Lindo-infused package. It had a stellar cast (Timothy Hutton, Dana Delany, the guy who played Bruce Wayne's father in "Batman Begins," Jeremy Sisto aka the Artist Formerly Known as Elton), and in telling the tale of a rich boy's abduction at the hands of very serious kidnappers has twists and turns galore (the guy from "Rent" as Sisto's mysterious prison informant) and an immaculate character development to plot development ratio. It just doesn't get much better (or more entertaining) than this. It was created by Jason Smilovic, who wrote the similarly excellent and short-lived "Karen Sisco" and "Lucky Number Slevin," which I haven't seen but has a stupid name. NBC has put the kibosh on the remaining episodes, moving the show into the dreaded purgatory of Saturday night in late October and shuttering plans for it to finish out the season. (The storyline will be wrapped up in 13 episodes; it's unknown how the abbreviated schedule will influence the plotline.) There have been numerous articles written about the move this season into the territory of kinetic, serialized shows, and the demise of "Kidnapped" doesn't bode well for other shows of its ilk. "Kidnapped" is the best show of it's kind this season, and it was the quickest to go.
"Smith," on the other hand, wasn't as instantly likeable. This was mostly because all of the main characters were murderous thieves and scumbags. But that was also its main asset. On "Prison Break" this season, the convicts have become cartoony caricatures of their former selves – we've forgotten all about why they ended up in prison in the first place (except for T-Bag, he's still pretty gross). In "Smith," a gang of horrible people (led by Ray Liotta and featuring Amy Smart, Simon Baker, Johnny Lee Miller, Frankie G and Shohreh Aghdashloo from "House of Sand and Fog" and "24") escape police detainment and the detection of their loved ones (Virginia Madsen is cast as Liotta's suspecting wife). Created by John Wells, who made a little show called "ER" with Michael Crichton and Steven Spielberg, the show is nasty and intricate – the jaw-dropping pilot (in which several people are left for dead) setting the tone for the kind of grim, off-kilter plotlines to follow. This is the first show of the fall to be out and out fired. It will be missed terribly.
This is just depressing. "Extreme Makeover: Home Edition" is still on the air, as is "America's Funniest Home Videos" and (I'm sorry to admit this) "The Simpsons." Yet quality shows like these two, ones that take daring creative risks with emotional and entertaining payoffs, get the boot so soon.
At least we can hope for a DVD.