The Zombie's Year in Pop: MUSIC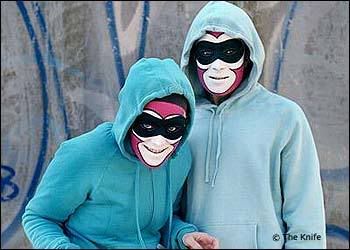 I started writing things but then realized I was taking really fucking long. So I thought I'd just throw my list up so Max could have something to make fun of (that sonofabitch). Keep in mind that I tried to exclude boring music (or as I like to call it 'jazz'). I may update it later (probably will, in fact).
Anyway... My List
BEST ALBUMS OF 2006
01
The Knife,

Silent Shout
The Swedish brother-sister outfit made a spooky, bouncy electro-pop haunted mansion, one that gave reference to its forbearers (Joy Division, Depeche Mode, the Berlin song on the "Top Gun" soundtrack) while creating something wholly unique, new and unforgettable. Quite literally the most haunting album of the year.
02
Justin Timberlake,

FutureSex/LoveSounds
/
Nelly Furtado,

Loose
It was just too hard picking one Timbaland-produced pop mega-masterpiece, so I put them both on there. And if you don't like it - Tough titty said the kitty, but the milk tastes good.
03
Kelis,

Was Here
A crazy, kaleidoscopic (reference intended), overstuffed gem that rewards repeat listens and served as 2006's oddest, most underappreciated pop masterwork (it didn't even chart on Pitchfork's Top 100 of the year). Even the B-sides and remixes were utter genius.
04
Hot Chip,

The Warning
Leaving behind the remote detachment that threatened to undo their debut, Hot Chip took their sound into the wholly genuine realm of pop song craft and came up aces. "Over and Over" remjavascript:void(0)
Save as Draftains a highlight of the year.
05
Lily Allen,

Alright Still
The singular brilliance of this album is how bubbly and fun the beats are and how raw and dirty (not to mention undeniably clever) the lyrics are. A perfect summertime album, all sea breeze blowing and windows rolled down.
06
Clipse,

Hell Hath No Fury
Even if they are full of shit, Clipse's tales of drug dealing are funny, compelling, wonderful nuggest of urban wish fulfillment. Either way, the stark, sparse beats by the Neptunes match the dark lyrical brilliance. It was worth the wait.
07
The Rapture,

Pieces of the People We Love
So the Rapture decided to make a fake Beach Boys album for full length number two, and while it doesn't seem like it would work (too airy, not angsty enough), it does, spectacularly
08
Lupe Fiasco,

Food & Liquor
Testament to "feel good rap" not meaning "total shit." It didn't blow up like I thought it would have (or should have), sadly.
09
Bertine Zetlitz,

My Italian Greyhound
Another woefully underappreciated album, this time from a Norwegian singer whose consistency is matched only by her lack of album sales.
10
MSTRKRFT,

The Looks
MSTRKRFT wasn't really interested in reinventing the wheel, just in making it bounce. And bounce it did.